Attendance
Attendance
You can find attendance figures for previous weeks in the gallery section of the website, under the heading Attendance News.

----------------------------------------------------------------------------------------------------------------------

Given the strong and proven link between 'Attendance & Attainment', the Welsh Government is placing a strong emphasis on improving levels of attendance in all our schools.
Research evidence indicates clearly that the more regularly a child attends school, the more they will learn and achieve. At our school, we are committed to providing your child with the best possible education and ensuring that they achieve to the best of their ability. Please therefore support this school by ensuring your child attends school on time and regularly throughout the academic year – #NOTINMISSOUT
We now use the 'STRIVE FOR 95+%' attendance tool to closely monitor and address patterns of school attendance. You will be receiving a letter informing you of your child's attendance on a regular basis and we will take steps as appropriate given the circumstances and the attendance threshold attained by each individual pupil to reward or challenge an individual pupil's attendance level. The table below explains the 3 different categories of attendance.

We fully recognise however that pupils are at times absent due to genuine reasons such as personal ill health and medical and dental appointments. However, we as a school ask for your full co-operation to ensure, as best as possible, that such visits take place either at the end of the school day or during the school holiday period.
Regular attendance is the key to your child making good progress at school and we look forward to working closely together with all parents to ensure that every child is able to achieve their full potential at Penygarn Community Primary School.
There are lots of different consequences of poor attendance as can be seen here and here.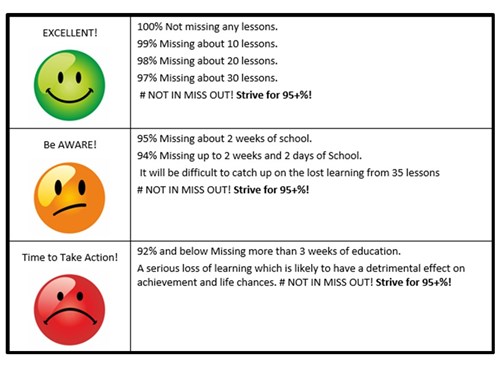 You can find a selection of letters and leaflets below that you may find helpful:

Attendance Incentives
A table of our attendance incentives can be found by clicking on the link below:
Attendance Ambassadors and Attendance Bears
Our Attendance Ambassadors and Attendance Bears work very hard together to make sure our children have the fabulous attendance and the best possible chance to succeed in school.  You can meet them by clicking on the link below: