Home Learning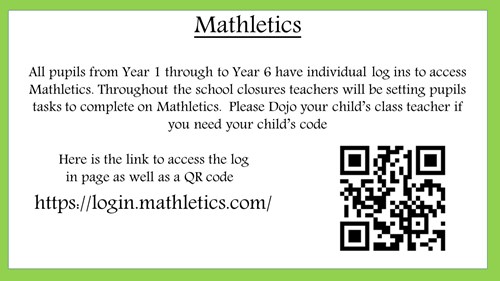 Mathletics FREE Classroom Resources R-Y8 Maths Workbooks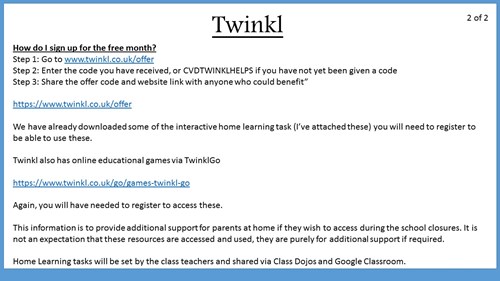 Twinkl Early Years Interactive Links
 Twinkl Year 1 Interactive Links
 Twinkl Year 2 Interactive Links
 Twinkl Year 3 Interactive Links
 Twinkl Year 4 Interactive Links
 Twinkl Year 5 Interactive Links
 Twinkl Year 6 Interactive Links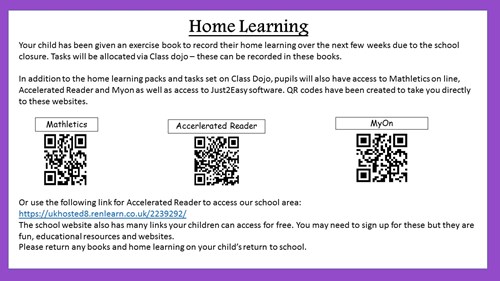 Here are some more FREE online education resources that may be of use during the school closures.
The Kids Should See This - Wide range of cool educational videos
Cbeebies Radio - Listening activities for the younger ones.
Cbeebies - Games for children and early years activities
Oxford Owl for Home - Lots of free resources for Primary age
Blue Peter Badges  - If you have a stamp and a nearby post box
Toy Theater - Educational online games
DK Find Out - Activities and quizzes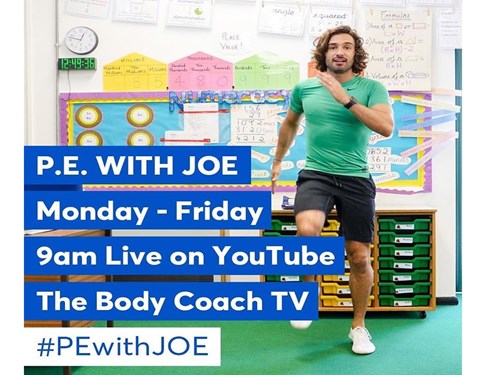 An easy guide to using MyOn can be found here.
Online Activity Links
9.00am - P.E with Joe Wicks
10.00am - Maths with Carol Vorderman
10.00am - Draw with Rob (Tuesdays and Thursdays)
11.00am - English with David Walliams
12.00pm - Recipes and ideas (cooking with Jamie Oliver)
1.00pm - Music with Myleene Klass
1.30pm - Dance with Darcey Bussel2.00pm - History Hit with Dan Snow (free for 30 days)
2.00pm - History Hit with Dan Snow (free for 30 days)
4.00pm - Home Economics with Theo Michaels
You may also enjoy…
Cosmic Kids Yoga and Mindfulness